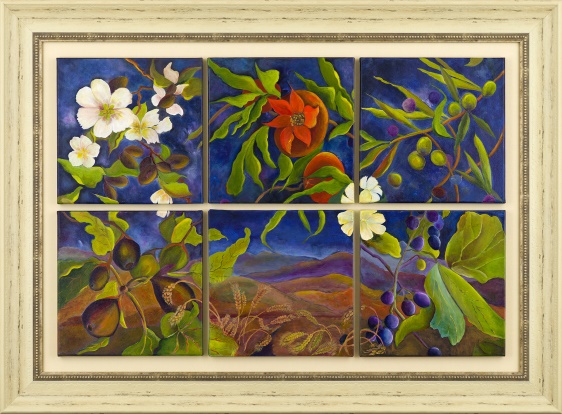 "Abundant Blessings" 46 x 34" in the custom frame. It depicts the great bounty of food with which we are blessed – and we give thanks. This is also available as a fine art giclee print.
Contact me for any information pertaining to anything on this website. Most pieces can be reproduced either on paper or canvas in a variety of sizes.
Check out my new sister website: Jackie O's Tchotchkes and tshirts for AFFORDABLE fabulous products: Visit Now

"I create my artwork with the intention of bringing spiritual awareness to one's heart and home. I want my work to shine light, reveal wisdom, and bring blessing with words from Torah, psalms and prayers. Our everyday journeys are filled with so many challenges and these pictures serve as reminders that God is close, so close—we just need to remember."
What people are saying!
The twins just received each of their Bar/Bat Mitzvah pictures. Their parents loved them, the children loved them and so did the Rabbi! Thanks. August '13 Roslyn G.
-
"Your work is so gorgeous, Jackie! I love to look at the pictures made by you that we have hanging in our house!"
- Marissa 10/11
"We love our ketubah!! It's beautiful in our bedroom and always reminds us of our wonderful wedding day. Thanks!"
- Jordan and Jennifer 8/11
"Jackie, I love the Shema mandala necklace. It keeps me centered and connected to a higher space and it looks fabulous. Everyone asks me where I got it and I direct them to your site."
- Lynn S. 11/11
I just received the products I ordered from your sister website. The Ahava clock and "Shalom" teddy bear were more than I expected - fabulous, affordable gifts. I'm getting everything I need from you for Hanukah! Thanks for doing this. Joanne and David 10/13
- Joanne
The "Shalom Landscape" picture which you personalized for the Bat Mitzvah gift was perfect for her parsha, which was Parsha Noach. I couldn't have found a better and more well recieved present. Thank you so much. Sarah and Robert 10/13
- Sarah
The 3 hamsah pictures I ordered just arrived and they're already hanging in a perfect place in our dining room. They make the entire space joyful and happy. We are delighted! Susana and Davida 8/13
-
"My daughter just received the "Love and Peace" sterling necklace as a Bat Mitzvah gift. Now she wants me to buy all her friends this gift for their Bat Mitzvah. It's precious."
- Adele S. 1/12
"The "Sunflower" painting arrived safe and sound and I love it. It brightens up my entire kitchen – looks like a redo for the cost of a stunning painting."
- Alana M. 11/11
I wore my Shema pendant to shul today. People admired my new necklace and asked where I bought it! I proudly told them about Jackie Olenick's inspirational art & jewelry! I don't want to take the pendant off. It's calming for me! Inez L. 3/12
-
"I love the "Shomerit Yisrael – Guardian of Israel" picture. It was given to me as an adult Bat Mitzvah gift. It's stunning and really touches my heart."
- Ann C. 7/11
"It was a pleasure dealing with you!  The picture arrived quickly in perfect condition.  And, your work is beautiful, the framing, outstanding. This is a wonderful keepsake that I will always have, as art work is timeless and forever."
- Lori W. 12/5/11
I love the "Shema" pendant I just received as a birthday present - best gift ever! Cara 10/12
-
Jackie, this healing amulet is so powerful. I've gifted several friends and never take mine off. When will it appear on your website?
- Ana B Koach
"My daughter just received the Shema necklace with sign language as a Bat Mitzvah gift – She loves it and I love it – Fabulous!!"
- Deborah G. 12/1
Jackie's "Shema v'ahavta" pendant has a timeless quality: Though new, it looks as if it could have been unearthed at an archaeological dig or discovered in a cache of ancient jewelry. Jackie is known for creating works of art with deep spiritual resonance. 9/12
- Jewish Woman Magazine
Jackie, the small Tree of Life pendant arrived and it is gorgeous! Its unique design is a pleasure to view and to feel as I wear it. Thank you. Laura D. 8/13
-
"I always keep coming back to your site to purchase the personalized Bar and Bat Mitzvah pictures. The kids love them, the parents love them and so do the Rabbis. Thanks for making them available – and at such a reasonable price."
- Caren R. 1/12
"The 3 pictures arrived safe and sound and look perfect hanging over our sofa. Our living room has become enlivened."
- Sarah and Albert 7/11
Four silver "Shema v'ahavta" pendants for my 4 grandchildren. I love them, the kids love them and their parents love them. A perfect Chanukah gift! Thanks. Marlena and Robert 12/12
-
A group of us (a long-standing women's group) purchased this as gifts to each other. We all love this spiritually infused amulet and it makes us feel centered. It's a holy reminder. Natalie 7/15
- Natalie
"The "Who Is Wise" series arrived and it's perfect for my office at the Temple. It's got a great message and brightens up an otherwise drab space. Great learning tool for all the kids and adults who stop in to see me."
- Steve L. Temple Administrator 8/11
The 2 Shema v'ahavta pendants were perfect gifts for the twin's Bar and Bat Mitzvah. They loved it! Works for both boys, girls, men and women. I'm buying one for myself, I liked it so much. Thank you. Minna 9/13
- Minna
If you study Kaballah, the Tree of Life necklace has great meaning and is a stunning piece of jewelry. My entire study group is buying one.
- Emily S. 1/12
"The 50th Anniversary "Sacred Space" ketubah our kids surprised us with is exquisite! The words are perfect and we'll always remember the amazing celebration with this beautiful gift from our children."
- Sharon and Barry 12/11
I bought this for my daughter for Mother's Day. It brought her to tears. Thanks for the lovely personalization and quick delivery. It's a perfect gift. Susana, 6/15
- Susana
I can always count on you to deliver on time, with a beautiful frame the B'nai mitzvah pictures for each of my 7 grandchildren. I always call you at the last minute and you always, without cvetching!! deliver on time. Again, many thanks. Eleanor 12/12
-
I am delighted that I chose to purchase your artwork. I love the fact that the Shema is in a labyrinth. So is my inner journey. I express by jubilance and gratitude to you. Helena 12/12
-
"Now we have an heirloom to pass down to our children. We love the original "Ufros Aleynu – Spread Over Us Your Canopy of Peace". It's gorgeous over the fireplace."
- David and Roberta 8/11
The giclee canvas prints just arrived - all three are perfect in our dining room. You truly can't tell these fine art prints from the originals - beautiful frame also. Thanks!! Nathan and Micah 9/13
- Nathan and Micah
Our "Morning Glories" ketubah is gorgeous! Thanks for making such a special contribution to our wedding and our lives. 7/13
- Marilyn and William
The personalized "Miriam" print for the Bat Mitzvah gift was perfect. Thanks for making this image available for this very special girl. She loved it! 10/13
- Rebecca and Jon
"The "Four Seasons" is the perfect focal point for our living room. I love coming home after a hard day at work, sitting on my couch and just looking at this picture."
- Hanna L. 1/12
"I received the picture and it is perfect. I can't wait for the choir to present it to our cantor"
- Sheila G. 2/12
We just received the "I Am My Beloveds...Morning Glories" ketubah. Printed on canvas, it's absolutely gorgeous. Thanks so much. You're a pleasure to work with. Melanie and William 11/12
-
"The "Woman of Valor" personalized tribute picture was so well received by its recipient – and the price point for our non-profit organization is perfect."
- Susanna 10/11
I purchased "Miriam" for my friend's adult Bat Mitzvah – it was a huge hit. Thanks, Jackie Daniella, 4/15
- Daniella
"Thanks for the wonderful picture that keeps me smling every time I see it. I really love it!"
- Suzanne S. 2/12
"This was the perfect Bat Mitzvah
gift
for my granddaughter" She loved it and really related to the strong "Miriam" image. Ellen S. 5/16
- Ellen
"Jackie, love how you put text to image and create this gorgeous artwork. Four of your pieces are now hanging in my dining room – making Shabbat even more special." 9/13
- Dina and Daniel 6/11
I've purchased this now several times as a perfect and grown up gift for a Bat Mitzvah. It's perfect. Thanks, Jackie Lillian 4/15
- Lillian
"My husband bought the "Or Chadash – a New Light" necklace for me for Hanukah – thanks Jackie! It's bright, decorative and has a great message."
- Diana L. 12/11
I've purchased this now for several new babies – it's always a welcome gift. Thanks, Jackie for the lovely image and prompt delivery. Hanna W. 3/15
- Hanna
Thanks for so quickly getting my personalized "Wherever You Go, I Shall Go" picture ready for me. Quick turnaround and beautiful image and frame. Roseanne 12/12
-